Advanced Search is a great tool that can be used to search for contacts with specific search criteria.
To access the Advanced Search tool:
1. Click on Contacts
2. Click on Advanced Search


3. Click on the appropriate category to expand the searchable fields
Enter your criteria and click Search


Here is a breakdown of the different searchable sections in the Advanced Search tool:
Personal Information:
Search for contacts by First Name, Last Name, Email, or Phone.
Tip: Wildcard search using an asterisk (*) allows you to search with a wildcard option so if you don't know or want to search for a phone with a specific area code you could do so.
Example : Searching 206* will find all numbers starting with area code 206 with any numbers after them.

Location Information:
Search for contacts by Address, City, State, Zip (searching within the desired distance is optional), Country, or Timezone.
Tags:
Search for contacts with a single tag or multiple tags. The option to search for contacts without a specific tag(s) is also available.
Dial Session:

Searching within a date range for the time first called or last time the contact was called and/or the total number of calls made to the contact and total attempts to reach the contact. Call attempts will count the total number of times a contact was dialed in dial sessions, not the total number of calls to different numbers in the same contact record.
Example: If a contact has 5 numbers and you called all of them one time, they may have 5 calls made but only one total call attempt.
Search for a contact's current status (created by the last disposition button that was used when the contact was called in a dial session), or search for multiple contacts with a specific set of statuses.
Management Information:
Search for contacts linked to an email campaign or with a specific star rating (if applicable).
The notes option allows you to search for a specific note.
Search for transferred contacts (Yes)and non-transferred contacts(No) and you can narrow it down by date and whom they were transferred from.
Search for contacts who were added via import, via the Add a Contact button, or via an integration source with Source Search. Date added searches for the date added to Phoneburner ( if using integration, the date pulled into Phoneburner, not the date added to the linked CRM).
If you have set a follow-up date, you can also search for contacts scheduled for follow up or on a specific date or create a saved search using the date options.
Example: If you want to have a saved search to pull all follow-ups due today, you can search days ago (exact) = 0 and it will pull any due on the date you pull it.
Search for contacts that are flagged as new only or not flagged.
Also, you can search for any contact that may have a number flagged as DNC.
Folders:
Search for contacts within specified folders or exclude certain folders. Archive/Trash allows you to add those locations, otherwise, they are not included in your results.
Email Status:
Search for contacts who have an active email address, who have Unsubscribed from emails, or whose email messages have either Soft/Hard bounced.
Search for contacts with a Confirmed, Restricted, Limited email status.
Search for contacts who have/have not opted in to receive the Pre-recorded Voicemail.
Contact Activity:
Search for contacts who have opened an email or watched a video.
Account: This search is only available if you are using the accounts feature in PhoneBurner. The account name is the company name assigned in accounts.
Custom Fields:
Search for contacts with specified information in your Custom Fields.
Appointments: You can search for contacts who have appt. scheduled on your calendar.
Contact Change Log: Using this tool you can locate contacts that had certain actions taken on them over a certain time period.
Example: Call result will search for any contact that has ever had a certain result, vs the Dial session status search that includes only the current status.
Creating and Editing Saved Searches:
The option to create a Saved Search is also available in the Advanced Search window.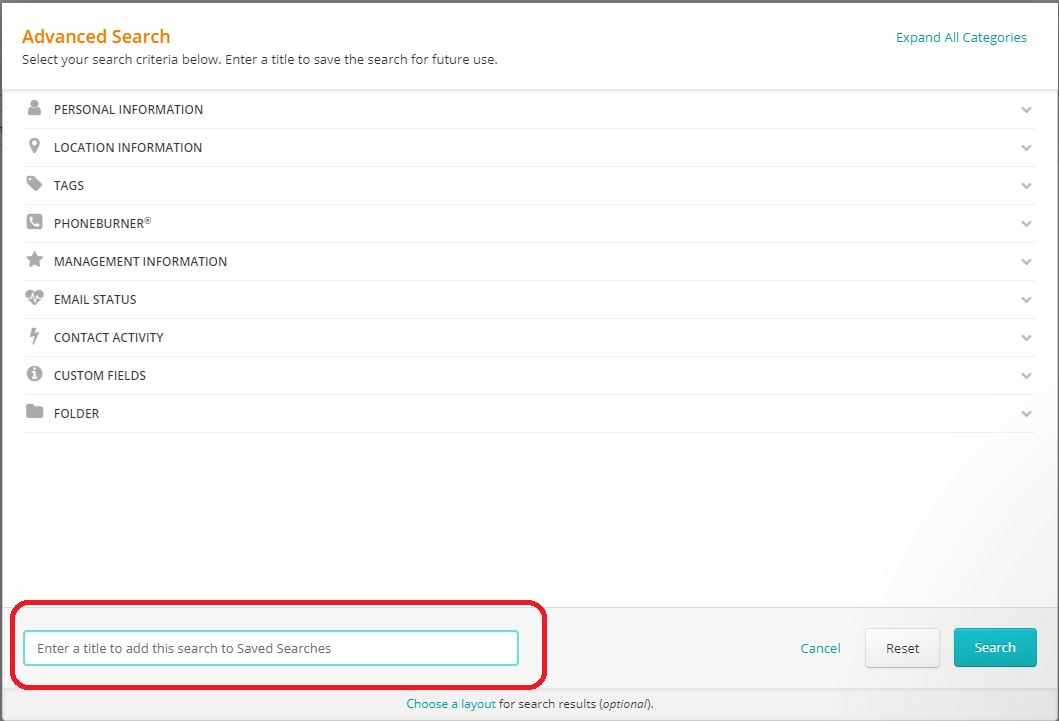 With a Saved Search, contacts that match the saved search criteria will show in the the search results with the a single click from the Contacts page:

Saved searches are editable. To edit your saved search, see this video for info.
Go to Dial Session settings/ contacts and click on searches and you will have an option to edit any saved searches created after the update was applied.

This will open up the window to see your saved search and adjust the search you created and update the search.
Any time you click on a saved search and open it , you will also have the option to edit the saved search from the results window.

If you rename your search and save it, it will overwrite the original search and not create a new one, so if you are trying to save a variation of the same search, you would have to start a new search from tje advanced search.