Dispositions are a sets of call statuses that you can choose at the end of each call. These are important in helping you (and your administrator if you are on a team) to report your calls. If you do not select a disposition at the end of the call, it will not count into your daily completed call count and it will not be handled correctly in reporting.
To get to your Dispositions, you can go to PhoneBurner > Call History > Dial Session Settings> Dispositions
or
As a team admin, My Account> Dial Session Settings> Dispositions
You will see two sets of dispositions by default ( Solos and Team administrators can add others). The Dialing set or no answer set to be used when you do not get a live answer on the phone and the Live answer set for when you do get a live person on the phone.
The Dialing Set: There are some default options set up for you when you first start. You can change these options, add more buttons or remove buttons and edit them in several different ways. To edit these sets, click the icon at the end of the line that looks like a pencil and this opens up the set. You can also use the button to Add New Dialing Set or Add New Live Answer Set to create multiple sets of buttons that can be selected from at the start of a dial session.


The icon above shows the edit button to access your buttons to change them.
________________________________________________________

Text: This is what actually appears on the button at the bottom of the dialer screen when in a session.
Status: This is what is entered into the Status section of the contact after the call. The call will not be counted as complete if no status change is made.
Voicemail: You can assign a specific voicemail from your VoiceMail Library To more than one button, so while in the session, you can choose which Voicemail option you want to live. None means this button will not turn green when a voicemail picks up and you will have to manually leave a voicemail, Dial session default will use what is chosen at the start of the session and a specific message is a message that will be used each time the button is used.

Note: This is what is entered into the notes section of the call after you click the button.
One Touch Email: You can create and set up One Touch emails in the Email Library and connect them to the dispositions so that after you select an option to end the call, it will send an email of your choice automatically. There are also options for how to prevent emails from sending or when you don't want it to send.
No Email-Do not change email applies when you have a contact with more than one number and if your first disposition sends an email, then the second one you choose will not and do not send an email means no email will be sent for that disposition.
So if I call contact A and choose "Voicemail" and it leaves a message and sends an email and I have a second number to call and the "no answer" button is set to Do not change email, then the email associated with the button will be sent when the second call is completed to prevent duplicates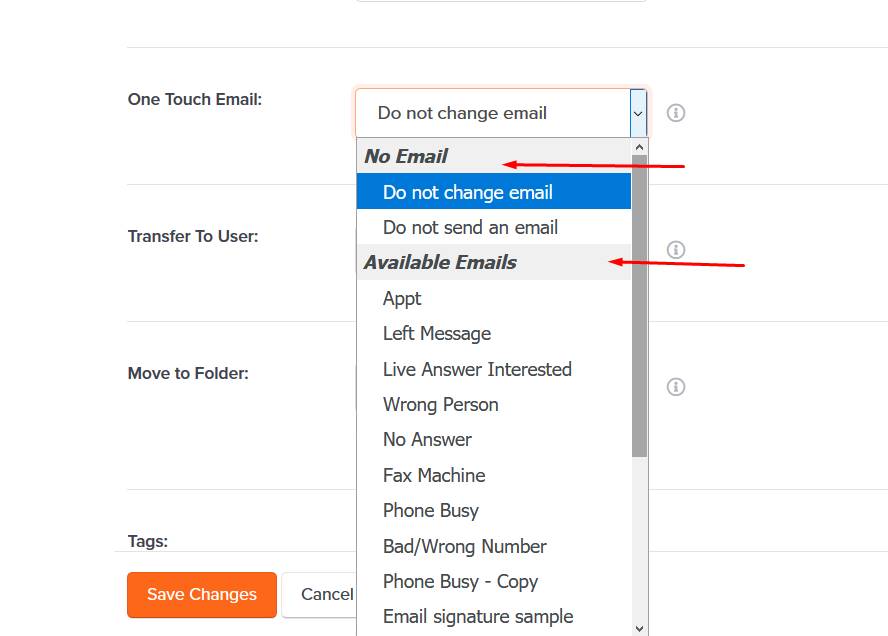 Transfer to user: You may want to transfer a lead to another user on your team after a call is made so that they can take ownership of the lead or as an admin you may want to set your disposition to send the lead back to your admin account after a certain disposition. You can use this option in the disposition to do this.
Move To Folder: You will be able to select an option to move the contact to another folder after the call depending on the status. You may want to move some calls to a follow-up folder after a voicemail is left.
Tags: You can Add or Remove tags from the contact record.

Next Action: After the disposition is clicked, the 'next action' is performed. Select 'Ask Me' to have the dialer ask each time whether it should call the next number or call the next contact. You're only prompted if the contact has more than one phone number. If you select 'Next Number' the dialer will attempt to call the next number for the same contact - if one is available. If you select 'Next Contact', the dialer will move to the next contact in the dial-session.
DNC: Do you want to put the caller on the DNC List? You have a choice or adding just the number, which will mark the number with a red DNC flag in your contacts. The number flagged will not be dialed again by PhoneBurner, even if it is in another contact, but if they have alternate numbers, these will still be available. These can be reversed in the DNC settings in your back office.
You also have an option to DNC the entire contact, but this is NOT reversible

and will not allow dialing to any number in the contact record. This setting should be used with

caution.
Delete Contact: Do you want to delete the contact completely? Note that if you are on a team, you may have to have the permission of your admin to be able to delete the contact or make any changes.
Delete Phone Number:
If you want to have a phone number removed from a contact when a disposition is used, such as DNC or Bad Number, set this to Yes.
Connected Call: If set to "Yes", this button will mark the call as connected for reporting purposes. If this is left as no, it will not count into connected/live call.

Webhook: If you are using a webhook to an integration, you can set the webhook here for specific dispositions if you want to send that data and then disposition acts as the trigger to send the information to your linked system.