Installing PhoneBurner for Salesforce
PhoneBurner's power dialer dramatically boosts live client interactions and overall productivity by 447%. PhoneBurner automatically dials contacts live. If voicemail picks up, a single click sends a professional pre-recorded voicemail and personalized email.
Salesforce records are updated as well, allowing the seller to immediately take the next call.
Full training on using Phoneburner in Salesforce is available in our training section:
https://www.phoneburner.com/training/content?page=salesforce
Use this step-by-step guide to install PhoneBurner for Salesforce.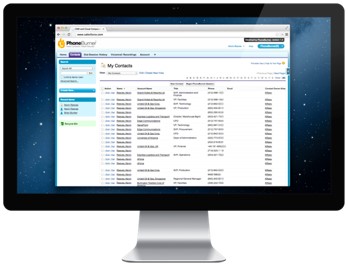 If you need assistance, please contact support at: (888) 981-9394
Sign Up
Get your PhoneBurner account
If you already have a PhoneBurner account, you can continue to the next section
Navigate your browser to http://phoneburner.com and click to get your account.
Enter your account
Select the hourly or unlimited plan - both packages have a free
Install
Get the PhoneBurner app from the AppExchange
Now that you have your PhoneBurner account, let's get the app from the Salesforce AppExchange.
Navigate your browser to http://appexchange.salesforce.com
Search for "PhoneBurner"
Click on the panel with the PhoneBurner logo and select the "Get It Now" button on the right.
4. If you're not already logged in, Salesforce will prompt you to
5. Once it's done, you'll be presented with an option to install the app into your production system or a sandbox account. If you select the sandbox option, you will need to re-run the installation process for your production
6. Agree to the terms and follow the screens displayed by You may be asked to login again using your same Salesforce credentials.
7. Once your authenticated again, you'll be dropped into your Salesforce account on a page that displays the PhoneBurner package Click the orange Continue button.
Now Salesforce will walk you through a few steps to finish the installation of the package. Salesforce will ask you which accounts you'd like the application installed into. The most common option is "Install for All Users". Then click the blue Install button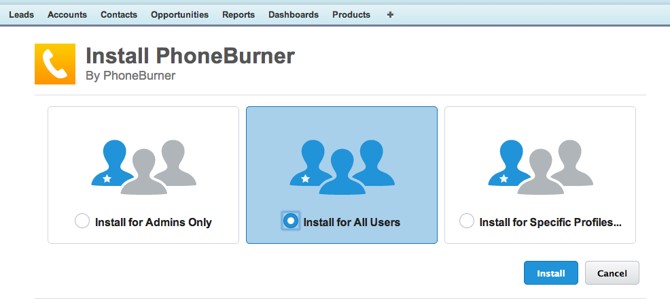 9. Salesforce will now install the package. This may take a few Once it's done, Salesforce will send you an email confirmation. Once it's installed you can proceed to configure your dialer.
Configure
Set up your Salesforce account to work with PhoneBurner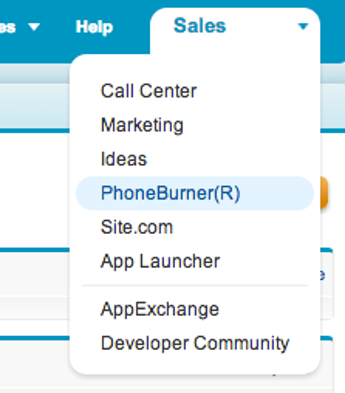 Now that you have a PhoneBurner account and the app is installed, it's time to configure your Salesforce system.
From inside your Salesforce account, select PhoneBurner (R) from the app drop-down menu.
Once inside the PhoneBurner app, select the "Account" tab. This page asks for 2 data points - your API key and your User key. These keys allow Salesforce to communicate with PhoneBurner and get information from your account. They are secure keys and it is safe to provide this information to your Salesforce account. But each account in your organization will need their own PhoneBurner account and will have their own API Key and User Key.
Now, you'll log into your PhoneBurner backoffice to collect these keys.
Navigate your browser to http://www.phoneburner.com and login with your PhoneBurner credentials.
Click the account icon upper right (circle) and go to Integration settings. (Please contact support if you don't have this setting option)
Scroll to the section titled Salesforce Integration and click the link. Then copy-paste they API Key and User Key to your Salesforce account.
Once you've pasted both data points into the Account tab of your Salesforce account, click the Save button.
8. Once your account has been updated, navigate to your Voicemail recordings tab and record your voicemails.
PhoneBurner can send automatic emails to your contacts each time you finish a call. The email functionality is configured inside your PhoneBurner account. If you intend on using the email functionality, you'll need to log into your PhoneBurner account and visit the "Dial Sessions" tab. Then click the "Settings" option on the left hand side.
Before you can do a dial-session, you'll need to add the button to your contacts tab. To do this, follow these steps:
Click Setup from your drop-down menu.
Click Customize -> Contacts -> Search Layouts.
Click Edit on the Contacts List View layout.
Select "Begin PhoneBurner Session" from the list of Available Buttons and click the right arrow button to move it over to the Selected Buttons.
Click Save.
Navigate to your Contacts tab, and click the Go button to view your contacts.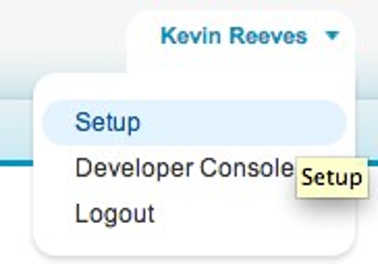 7. You will see the button at the top of the grid.
You're done!