Phoneburner does have a feature available for email broadcasting , or sending a one time message to a group of contacts or auto sending in a drip campaign in Beta testing.
In order to use this feature, you will need to be using your Custom Email Sending Server.
Please contact support regarding this feature if you would like further information. 
Once Email campaigns are activated by support,you can set up email campaigns by going to the settings gear on the contacts page and selecting Email Campaigns.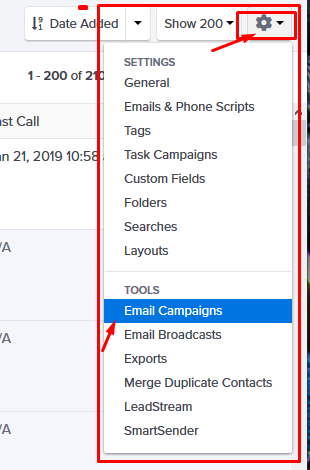 Select "create new campaign" and Create a name for the campaign. 

Once this is saved, click add new message and add the Day you want to trigger it ( after it has been added to the campaign) , the pre-written email if you have created one in emails and phone scripts or create a new one on the spot and save. 
You can select contacts individually by opening up the contact record, choosing the campaign tab if they have an email address and subscribing them manually to the campaign. You can choose a folder to assign to a campaign by going to the manage folders option (the gear icon on contacts tab near folders)
To add the entire folder ( and any contacts that are added to it ) , selected the Associated Email Campaign column and use the drop down to select the campaign you want that folder assigned too. 
Once set up , you can check the delivery status of messages in the campaign and see how many have been sent on the same page. 

Emails in Drip campaigns are sent out early in the day , each day and may take several hours in the process to get triggered, so if you add someone to a campaign for day one, the email will actually be sent the second day.